Adelaide Kane
Biographical informations
Name
Adelaide Kane
Birthplace
Claremont, Western Australia, Australia
Birth Date
9 August 1990 (age 23)
Portrays
Mary Stuart
Season(s)
1
Adelaide Kane (born 9 August, 1990) is an Australian actress. She portrays Mary Stuart on Reign.
Life & Career
Kane was born in Claremont, Western Australia. She was picked to join the cast of Neighbours as Lolly Allen after she entered a competition run by Dolly magazine in 2006. She was given a three-month contract with the show. Kane left her Year 11 class at St Hilda's Anglican School for Girls in the Perth suburb of Mosman Park to move to Melbourne where Neighbours is produced. In December 2006, Daniel Kilkelly from Digital Spy reported that Kane would be leaving the show after her contract was not renewed. At the time of the announcement, Kane had not yet appeared as Lolly on-screen.From March to December 2009, Kane portrayed the character of Tenaya 7/15 on Power Rangers RPM, part of the long-running Power Rangers franchise. The series was shot over a six-month period in Auckland, New Zealand.On 16 April 2010, Kane starred in Secrets of the Mountain, on NBC. A TV family movie, Secrets of the Mountain was shot in Canada, and was co-funded by Wal-Mart and Procter & Gamble. Also in 2010, Kane has a starring role in the Vuguru production Pretty Tough, a 20-episode web series based on the novel of the same name by Liz Tigelaar.On 28 November 2012, it was announced that Kane had joined the cast of Teen Wolf in the recurring role of Cora whom is Derek Hale's younger sister, "a mysterious and beautiful young woman toughened by a life on her own". In February 2013, Kane was cast as Mary, Queen of Scots in The CW drama series Reign.
Filmography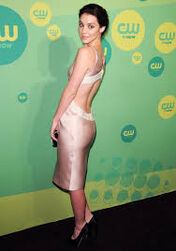 Year
Title
Role

2007

2009

2010

2011

2011

2012

2012

2013

2013

2013

2013

2013

Neighbours

Power Rangers RPM

Secret of the Mountain

Teen Wolf

Pretty Tough

Donner Pass

Goats

Blood Punch

Louder Than Words

Where the Devil Hides

The Purge

Lolly Allen

Tenaya 7/Tenaya 15

Jade Ann James

Cora Hale

Charlie

Nicole

Aubrey

Nabiki

Stephanie Fareri

Ruth

Zoey Sandin
Gallery
Trivia
Laurie McCarthy said about her: I wanted someone who could play a warrior queen.
Adelaide is Team Frary.[1]
Adelaide is descended from Mary, Queen of Scots and the House of Stuart through her mother's side.[2]
It is said that she got the role without anyone else being looked at.[3]
References