Ad blocker interference detected!
Wikia is a free-to-use site that makes money from advertising. We have a modified experience for viewers using ad blockers

Wikia is not accessible if you've made further modifications. Remove the custom ad blocker rule(s) and the page will load as expected.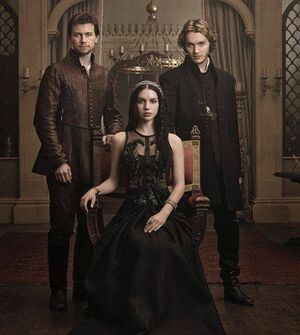 Mary, Bash and Francis were caught in a love triangle throughout the midway point of season 1. Nostradamus' prediction led to Mary breaking things of with Francis and getting engaged to Bash. Bash and Mary were lovers and had kissed on various occasions. Although their love wasn't sexual like Mary and Francis they still loved each other dearly and some fans were glad it wasn't a sexual relationship because they thought they were a forbidden cute couple.
Mary and Francis
Edit
Mary and Francis were engaged since they were six and in episode three season 1 they shared their first kiss and in episode 7 season 1 their relationship became sexual. After Mary was told of Nostradamus' predictions she left Francis and chose Bash as her next fiancée. When Nostradamus' predication was no longer correct, Mary chose Francis over Bash and was married in episode 13 season 1.
Mary and Bash
Edit
Write the second section of your page here.After Nostradamus' predication Mary told King Henry II that she would stake her claim on England and she would marry Bash. Bash and Mary fell in love and shared various romantic times on the show even after Mary chose Francis over him. He was still a great friend to Mary and Mary called him her brother. They were really close and Bash travelled to Scotland after he friend to kill Catherine. He soon left Mary to become a druid and healer. Fans wee all upset to see Bash leave but know he is not gone forever.