The fashion of Mary Stuart. Here you can learn of Mary's style including if you would like to purchase any of these items yourself. Keep in mind that some stuff has been sold out. Click the picture and it will take you to the item (if it is still available. But if you go to this link, you can find a lot more: http://fashion-of-reign.tumblr.com/7
Appearance
If you want to have this hairstyle, its very simple. Let your locks be free and natural with a middle part. Blow dry, maybe scrunch a little, or add a bit of curl, dab in a bit of product to keep the frizz at bay, but most importantly, keep it natural and part it down the center. Finally, add one braid at the front of your hair on either side of your head and add a hairpiece if you like.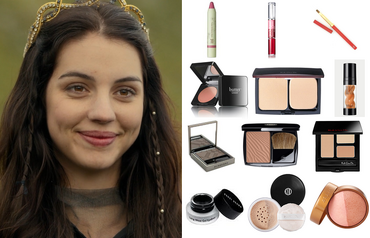 Mary's makeup is done by Linda Preston. She uses these items:
Clothing
Throughout the first season, Mary mainly wears Alexander McQueen, Stella McCartney, Gucci, and Oscar de la Renta.
Shoes
Accessories
Ad blocker interference detected!
Wikia is a free-to-use site that makes money from advertising. We have a modified experience for viewers using ad blockers

Wikia is not accessible if you've made further modifications. Remove the custom ad blocker rule(s) and the page will load as expected.