Mary and Francis

General Information

Nickname

Frary (Francis/Mary)

Intimacy Level

Deeply in love
Strong feelings for each other
Francis is very protective of her and cares about her
They would die for each other
Made love

Status

Childhood Friends
Married
King & Queen of France and Scotland
Relationship currently falling apart

First Met

Childhood

Portrayed By
"
Mary. You are my life and I love you.
"
The relationship between Queen Mary Stuart and King Francis. The two seem to have some chemistry the moment they set eyes on one another. An attraction between Mary and Francis is ignited. Mary certainly falls for Francis, but the marriage has more to do with politics than love. And although Mary is certainly falling head over her adorned heels for the young soon to be King, he is not so ready to settle down. Francis is attracted to Mary due to her fiery passion. These two not only have electric chemistry, but their conflict between love and duty is truly compelling.
During the series, they have had many complications and obstacles try to come between them; such as Olivia, Bash, and the prophecy but have managed to overcome these. They are now married. During their marriage, their love for each has become more stronger and are currently trying to have a baby. However, Mary learns of Lola's night with Francis due to finding out from Kenna that Lola is pregant and feels betrayed by her as Lola knew that Mary was still in love with Francis and she became engaged to Bash because she was trying to protect Francis from the prophecy coming true.
Early History
Edit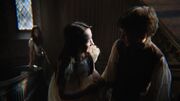 Mary and Francis were first engaged to each other when they were only six years old. When Mary first entered the French Court as a child they were playmates. In the Pilot, there are flashbacks where they are seen playing on the stairs and in Mary's chambers.
Throughout ReignEdit
They have been arranged to be married since Mary was six years old.
Francis will not be trying to fall in love with Mary but will end up failing.
Olivia had threatened Mary and Francis' relationship.
According to Laurie McCarthy, they will be pining for one another. 
Adelaide Kane ships them.[1]
Toby Regbo ships them
Mary's first kiss was Francis in Kissed.
Francis made a boat for Mary in A Chill in the Air.
Mary, just like Catherine, would die for Francis.
Both of them have had their first kill and were shaken up by it.
After Francis tells Mary he loves her and Mary and Francis have sex which means Francis takes Mary's virginity in Left Behind.
They have trended worldwide many times on twitter.
Mary and Francis ended their relationship, because Mary believed it was the only way to save him.
Mary and Francis were wed and consummated their marriage in Consummation.