Home
Talk

2
556pages on
this wiki
WELCOME TO THE REIGN WIKI !
Home to 556 articles, and 6,157 files since May 16, 2013.
---
The Reign Wiki is the first, most comprehensive and informative online encyclopaedia dedicated to Reign and the History.
---
Caution this wiki contains spoilers from Reign.
CONTRIBUTE
This is a collaborative wiki meaning we need you to help us grow this wiki!
Anyone is more than welcome to help, once they've read our guides and regulations.

To start editing, please sign up to create a free personal account, or log in if you already have one.
---
---
If you're new to Wikia, please use the above links to get started. If you already have editing experience, and you have an article relating to Reign to contribute, use the box below to create it:
If you're looking to help with cleanup, you can start here:
---
---
If you have a question feel free to ask one of our
Admins
, they are here to help you with whatever you need.
CONTENT
Reign Series Content
Families
Noble and Commoner Houses
Image Galleries
Season Two Episode Galleries
EPISODES
NEXT EPISODE

LATEST EPISODE

00:31

Reign - Banished Trailer

"Banished" — MURDER, MAYHEM AND SOME SHOCKING REVELATIONS — Mary (Adelaide Kane) finds out the truth from Greer (Celina Sinden) about rumors going around Court, forcing Mary to do something she never thought possible. Francis (Toby Regbo) finds himself in a growing rivalry with Condé (Sean Teale) for Mary. Bash's (Torrance Coombs) mother Diane (guest star Anna Walton) returns, igniting a long overdue confrontation with Catherine (Megan Follows), while Claude (Rose Williams) is determined to find out the truth about who really killed the twins. Craig Parker, Caitlin Stasey, Jonathan Keltz and Anna Popplewell also star.

00:31

Reign - Getaway Trailer

"Getaway" — MARY AIDS AN ENDANGERED CONDE — Mary (Adelaide Kane) takes action to save Condé (Sean Teale) when she learns the Vatican is hunting him for bearing the branded mark of the Dark Riders. Francis (Toby Regbo) devises a plan to put an end to the Dark Riders legend, which puts Bash (Torrance Coombs) at risk. Meanwhile, Kenna (Caitlin Stasey) reveals Catherine's (Megan Follows) ulterior motives to Claude (Rose Williams). Celina Sinden, Craig Parker, Jonathan Keltz and Anna Popplewell also star. Lynne Stopkewich directed the episode written by Daniel Sinclair.
CURRENT POLL
Please visit Featured Polls to cast your votes !!
Which new character do you prefer?
We Asked: What did you think of the season premiere?
Last result: After 49 votes, 61.83% said it was okay, 16.32% said it was amazing, 10.02% said it was great, 2.04% said they disliked it.
SEE MORE
DISCLAIMER
The
Reign Wiki
is not affiliated with
The CW
or CBS Studios. All trademarks, copyrights and/or legal ownership of items are property of their respective owners. This wiki is a fun, informative guide to all
Reign
fans to use as they see fit.
NEXT ON REIGN
Banished will air in...
January 29, 2015 20:00:00 EST

FEATURED IMAGE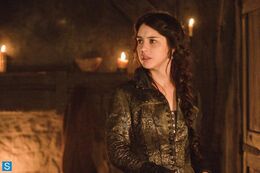 CONNECT
We are also ReignMusic on

AFFILIATES
---
If you would like to affiliate another wiki to this one, please contact an
Admin.
---