Home
Talk

2
214pages on
this wiki
WELCOME TO THE REIGN WIKI
---
Home to 214 articles, and 3,580 files since May 16, 2013.
---
The first encyclopedia surrounding Reign for anyone to edit.
Caution this wiki contains spoilers from Reign.
ABOUT REIGN WIKI
Welcome to The Reign Wiki an online encyclopedia featuring the show Reign. Please go to Welcome Guide where we have wiki news and your introduction to our Wikia world. If you don't feel like visiting Welcome Guide please visit Royal Decrees to learn our wiki's rules.


We ask that you please respect all views and all perspectives. This wikia is meant for a better understanding of the show, and for a strong, friendly community. Hateful or vulgar posts against someone or something can and will be removed by the Admins. Thank you for reading this notice; please spread the word, and keep it nice.
CONTRIBUTE
If you're new to Wikia or Reign Wiki please, If you haven't visit Welcome Guide or Royal Decrees to learn the rules and about editing. If you already have editing experience, and you have an article relating to Reign to contribute, use the box below to create it:
Have a question? Ask one of the Admins !
EPISODES
| | |
| --- | --- |
| NEXT EPISODE | LATEST EPISODE |
| "Toy Soldiers" — FOR LOVE OR COUNTRY — When Mary's uncle, the Duke of Guise (guest star Gil Darnell), arrives in France with devastating news about her mother, Mary (Adelaide Kane) and Francis (Toby Regbo) realize they are torn between putting their own countries first or saving their marriage. With the English throne in jeopardy, King Henry (Alan Van Sprang) hatches an elaborate plan that will end in disaster. Meanwhile, Bash (Torrance Coombs) and Kenna (Caitlin Stasey) solidify their marriage and begin to trust one another. Megan Follows, Anna Popplewell and Celina Sinden also star. Read More | "No Exit" — MARY'S BROTHER ARRIVES AT THE CASTLE TO PLEA FOR MARY'S RETURN TO SCOTLAND — When Mary's brother James (guest star Joe Doyle) arrives in France and convinces Mary to return to Scotland, Francis (Toby Regbo) is suspicious and uncovers a plot that would destroy Mary (Adelaide Kane), which causes a rift between them. King Henry's (Alan Van Sprang) downward spiral continues, leaving Penelope (guest star Kathryn Prescott) in charge, causing Catherine (Megan Follows) and Kenna (Caitlin Stasey) to take drastic measures. Meanwhile, Lola (Anna Popplewell) becomes wary of Lord Julien's (guest star Giacomo Gianniotti) motives behind his marriage proposal. Torrance Coombs and Celina Sinden also star. Read More |
CURRENT POLL
Please visit Featured Polls to cast your votes !!
What do you think of Bash and Kenna's marriage?
We Asked: What do you think is special about the new girl Rowan?
Last result: After 51 votes, 66.67% said nothing, 17.65.57% said Her personality, 13.75% said The relationship she has with Bash, 1.96% Her appearance.
SEE MORE
DISCLAIMER
The Reign Wiki is not affiliated with the CW. All trademarks, copyrights and/or legal ownership of items are property of their respective owners. This wiki is a fun, informative guide to all Reign fans to use as they see fit.
COUNTDOWN
No Exit will air in...
April 17, 2014 20:00:00 EST

FEATURED ARTICLE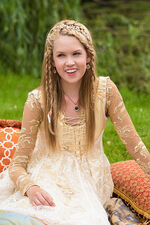 Aylee was the kind, sweet and innocent of the Ladies-In-Waiting to Mary and close friend, along with Kenna, Lola, and Greer. She was from a prominent family which according to Greer owns half of Scotland. It had been predicted by Nostradamus that she would never return home, which led to her eventual death in Fated. She was portrayed by Jenessa Grant.

CONNECT
We are also ReignMusic on

AFFILIATES
---
If you would like to affiliate another wiki to this one, please contact an
Admin.
---