Home
Talk

2
192pages on
this wiki
WELCOME TO THE REIGN WIKI
---
Home to 192 articles, and 2,807 files since May 16, 2013.
---
The first encyclopaedia surrounding Reign for anyone to edit.
Caution this wiki contains spoilers from Reign.
Please cast your votes in Featured Polls !!
ABOUT REIGN WIKI
Welcome to The Reign Wiki an online encyclopedia featuring the show Reign. Please go to Welcome Guide where we have wiki news and your introduction to our Wikia world. If you don't feel like visiting Welcome Guide please visit Royal Decrees to learn our wiki's rules.




IMPORTANT NOTICE

Please respect all views and all perspectives. This wikia is meant for a better understanding of the show, and for a strong, friendly community. Hateful or vulgar posts against someone or something can and will be removed by the Admins. Thank you for reading this notice; please spread the word, and keep it nice.




HELP OUT

If you're new to Wikia or Reign Wiki please, If you haven't visit Royal Decrees to learn the rules and about editing. If you already have editing experience, and you have an article relating to Reign to contribute, use the box below to create it:
Have a question? Ask one of the Admins !
EPISODES
| | |
| --- | --- |
| NEXT EPISODE | LATEST EPISODE |
| A LIFE-CHANGING SITUATION AFFECTS MARY AND HER NEW HUSBAND — Mary (Adelaide Kane) returns from her honeymoon and, suspicious of Lola's (Anna Popplewell) strange behavior, uncovers a deception that changes everything. Bash (Torrance Coombs) encounters a confused and terrified Olivia (guest star Yael Grobglas), an escaped victim of the terrors of the woods, which causes him to enlist Nostradamus (Rossif Sutherland) for help. Meanwhile, when King Henry's (Alan Van Sprang) odd behavior causes misfortune, he is forced to ask for Queen Catherine's (Megan Follows) aid. Toby Regbo, Celina Sinden and Caitlin Stasey also star. The episode was directed by Norma Bailey with the teleplay by Edgar Lyall and story by Drew Lindo . Read More | A ROYAL WEDDING OCCURS BUT WHO DOES MARY CHOOSE? — With a forced marriage looming, Mary (Adelaide Kane) must consider both her heart and her nation when deciding whom she will wed – Francis (Toby Regbo) or Bash (Torrance Coombs) – when Francis returns to court with Lola (Anna Popplewell) at his side. Further complicating matters is Mary's mother, Marie de Guise (guest star Amy Brenneman), who visits the castle with her own agenda for Mary. Marie's presence worries King Henry (Alan Van Sprang) and Queen Catherine (Megan Follows), who have their own plan for the future of France, regardless of who gets hurt in the process. Celina Sinden and Caitlin Stasey also star. The episode was directed by Fred Gerber and written by Laurie McCarthy. Read More |
CURRENT POLL
Please visit Featured Polls to cast your votes !!
what did you think of the episode "consummation" ?
We Asked: What do you think of the fact that Bash is going to be legitimized?
Last result: After 1213 votes, 54.08% said love it, 37.43% said dislike it, 3.46% said like the idea, 2.64% said indifferent, 2.39% said ok
SEE MORE
DISCLAIMER
The Reign Wiki is not affiliated with the CW. All trademarks, copyrights and/or legal ownership of items are property of their respective owners. This wiki is a fun, informative guide to all Reign fans to use as they see fit.
COUNTDOWN
Dirty Laundry will air in...
March 13, 2014 20:30:00 EST

Featured Image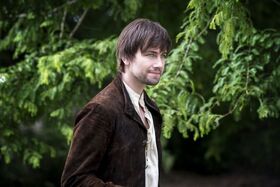 ~Bash looking at something~
AFFILIATES
---
If you would like to affiliate another wiki to this one, please contact an
Admin.
---