Home
Talk

2
411pages on
this wiki
WELCOME TO THE REIGN WIKI
Check out our new Checklist to know what to edit or create!
---
Home to 411 articles, and 4,904 files since May 16, 2013.
---
The first encyclopedia surrounding Reign for anyone to edit.
Caution this wiki contains spoilers from Reign.
ABOUT REIGN WIKI
Welcome to
The Reign Wiki
an online encyclopedia featuring the show
Reign
. Please go to
Welcome Guide
where we have wiki news and your introduction to our
Wikia
world. If you don't feel like visiting
Welcome Guide
please visit
Royal Decrees
to learn our wiki's rules.
We ask that you please respect all views and all perspectives. This wikia is meant for a better understanding of the show, and for a strong, friendly community. Hateful or vulgar posts against someone or something can and will be removed by the Admins. Thank you for reading this notice; please spread the word, and keep it nice.
CONTRIBUTE
If you're new to Wikia or Reign Wiki please, If you haven't visit Welcome Guide or Royal Decrees to learn the rules and about editing. If you already have editing experience, and you have an article relating to Reign to contribute, use the box below to create it:
Have a question? Ask one of the Admins !
CONTENT
Reign Series Content
Image Galleries
Season Two Episode Galleries
EPISODES
NEXT EPISODE

LATEST EPISODE

01:01

Reign - The Plague Extended Trailer

"The Plague" — PLAGUE ROCKS THE KINGDOM — The new King and Queen of France, Francis (Toby Regbo) and Mary (Adelaide Kane) are plummeted into chaos after the Black Plague ravages the land and creeps inside the castle, threatening lives and the stability of their new rule. Francis finds himself on the wrong side of the quarantined gates, with Lola (Anna Popplewell), as they try to make their way back to safety. New and murderous foes are introduced as nobles grasp for power, pressuring Mary -- and Catherine (Megan Follows) -- even as the death count rises. Meanwhile, Kenna (Caitlin Stasey) and Bash (Torrance Coombs) find themselves separated; Kenna's life endangered as she risks all to save their young ward. Greer (Celina Sinden) is forced to watch Leith (Jonathan Keltz) move on with a new love and is shocked to realize he's involved with her fiancé's daughter. Fred Gerber directed the episode written by Laurie McCarthy.

00:31

Reign - Slaughter of Innocence Trailer

"Slaughter of Innocence" — FRANCIS AND MARY TAKE CHARGE, MAKING BRUTAL CHOICES THAT WILL CHANGE THE FATE OF FRANCE — When the King's (Alan Van Sprang) madness and cruelty reaches a fevered pitch, Mary (Adelaide Kane) and Francis (Toby Regbo) take action. Their choices could change the course of history, but an unforeseen terror brewing in the woods could cost them, and their friends, everything. Mary makes a drastic decision when she learns Lola (Anna Popplewell) is going through a life-threatening labor at a location outside of the castle. Megan Follows, Torrance Coombs, Caitlin Stasey and Celina Sinden also star. David Frazee directed the episode written by Laurie McCarthy and Doris Egan.
CURRENT POLL
Please visit Featured Polls to cast your votes !!
What did you think of the season finale?
We Asked: What do you think of Bash and Kenna's marriage?
Last result: After 470 votes, 53.19.67% said I think its great, I ship it!, 34.04% said I dislike it, neither of them wanted the marriage !, 12.77% said I'm indifferent, doesn't really bother me either way.
SEE MORE
DISCLAIMER
The Reign Wiki is not affiliated with the CW. All trademarks, copyrights and/or legal ownership of items are property of their respective owners. This wiki is a fun, informative guide to all Reign fans to use as they see fit.
NEXT ON REIGN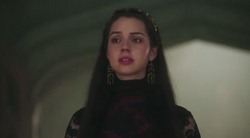 The Plague will air in...
October 2, 2014 20:00:00 EST

FEATURED IMAGE
CONNECT
We are also ReignMusic on

AFFILIATES
---
If you would like to affiliate another wiki to this one, please contact an
Admin.
---