Sebastian (a.k.a Bash)  (French: Sébastien) is one of the male leads of Reign. He is the illegitimite son of the King of France, and his favorite mistress Diane de Poitiers. He is also the half-brother to Francis II, the next in line to the throne and the half-brother to Elizabeth, Claude, Charles and Henry Jr.. Despite this, he is still his father's favorite. After a prophecy that predicts Francis' death if he were to wed Mary. The process of legitimizing Bash for him to become the heir, next King of France and husband to Mary begins. When Francis returned to the French Court, Mary chose to be with Francis and Bash lost the right to the throne. Later he is forced to wed Kenna by Henry even though it is revealed later he is still in love with Mary. 
After losing Rowan, a young woman he had a small romance with, he makes it his mission to hunt down and kill the Darkness, a creature that feeds off of humans eventually killing them. He vows to rid of the Darkness so that all citizens are safe from the monstrosity.
He is portrayed by the Canadian actor, Torrance Coombs.
Early Life
Edit
As the King's illegitimate and favorite son, Bash was allowed to do more than his half-brother Francis could, because there was no fear of him dying since he would never be King. Bash's mother has a pagan history and his knowledge of paganism and his family ties to it are mentioned throughout the series. 
Throughout ReignEdit
Personality
Edit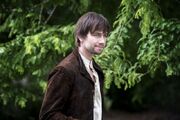 He is warm and comforting toward people he cares about or even people he's recently met, as he is always comforting
Marie
 and helping his half-brother
Francis
. He also shows kindness to people he doesn't know well like the kindness shown to
Lola
in
Hearts and Minds
. In love, he is very devoted, putting the people he cares for first above all. 
His relationship with his half-brother Francis, has grown weary but he always manages to always have Francis' back. He also cares deeply for Mary but knows he can never have her as she is Francis' wife. He is understanding of Kenna and vowed to protect her because she is his wife. He eventually falls in love with her. He is quite humurous, often poking fun or making jokes; Mary described him as being cheeky yet he is capable of being serious if he wanted. He is very confident in himself and his abilities but feels like he has to constantly prove himself because of his illegitimate birth. 
Physical Appearance
Edit
Sebastian is "gorgeous" as mentioned by Kenna in the Pilot episode, and he has shaggy, straight, dark brown hair and bright blue eyes. He has an oval-shaped face with a pale skin tone, and he is tall and slim. As for facial hair, he usually has stubble and is not always fresh and proper.
He has worn different types of clothing appropriate for the time period. While waiting on news for his legitimization, he dresses as a member of higher class with fancier clothing. He used to dress more casual by wearing a loose shirt instead of an intricate jacket.
Relationships
Edit
Appearances
Edit
Sebastian is a masculine given name that derives from the Latin name Sebastianus which meant "from Sebaste". Sebaste was the name a town in Asia Minor, its name deriving from Greek σεβαστος (sebastos) "venerable" (a translation of Latin Augustus, the title of the Roman emperors).
He is the only main character not based on a real person.
King Henry II only acknowledged one male illegitimate son who was only given a small title, due to the fact that at the time it was considered foolish to do so for it encouraged successions wars. (See Henry for more details.)
He was engaged to Mary until she decided to marry Francis.
In Left Behind his mother planned to legitmize him and used Mary as an influence to make him agree.
There are internet rumors Bash is based on Bastian Pagez, one of Mary's most loyal servants. This is not true.
His cousin Isobel is a pagan along with his mother.
Bash may find a lady at court. [1]
He got a title, Master of Horse and Hunt in Monsters. It is said by Kenna that Henry made it up.