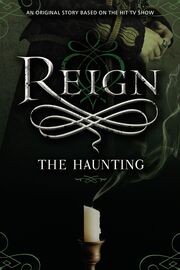 The Haunting is the third tie-in story for Reign written by Lily Blake, following The Prophecy. It was released as an e-novella on December 9, 2014 by the publisher Little, Brown Books for Young Readers.
An original e-novella, based on the hit CW television show, Reign.
It has been months since the death of King Henry II and the French Court has grown accustomed to the rule of the newly-crowned King Francis. But while the people are excited by the prospects of a new reign, Francis struggles with his new place on the throne. Plagued by frequent nightmares of his father, he grapples with his guilt and grief. But as his visions become more threatening, Francis must wonder: Is his father's ghost trying to tell him something? Or is Francis, like Henry, slowly going mad?
TBA
External Links
Edit
Ad blocker interference detected!
Wikia is a free-to-use site that makes money from advertising. We have a modified experience for viewers using ad blockers

Wikia is not accessible if you've made further modifications. Remove the custom ad blocker rule(s) and the page will load as expected.